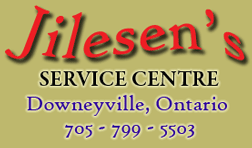 Jilesen's Service Centre is owned and operated by Cornelius Jilesen and family. Operating out of Downeyville, Ontario, just east of Lindsay, the Jilesen family has been repairing automobiles and farm machinery in the City of Kawartha Lakes since 1971. Used vehicles, automotive mechanical service, towing and recovery, collision repair and welding are services offered at Jilesen's Service Centre.
Please visit the site that I made for Cornelius at http://jilesens.ca Car list updated once a week or so.
KJ'S CAMPERS

This is another site that I created for a client that is in the business of renting Camper Trailers and Tent Trailers to those looking to enjoy a get away without having the expense of owning their own trailer. Kelly has quite a few trailers that she rents and will even deliver setup and return the trailer within an hour's drive of her business location. Looking for an inexpensive camping trip out to the woods to enjoy nature and to get away from it all? Visit www.kjscamperrentals.com for more information on how to rent a camper trailer and start enjoying the great outdoors!